The Secret to the Supernatural
One of my greatest desires in life is to witness the supernatural power of God flowing freely in the Church today. It's partly because when I read the book of Acts, I see the tremendous impact the early church had on their culture and society. One reason for their effectiveness can be traced back to the believer's prayer in Acts 4:30 where they specifically asked the Lord for supernatural miracles to be performed in order to establish the words they preached. This and partly because I am a product of the supernatural power of God. If it wasn't for his miraculous power of heal I am sure if I would be preaching the gospel today!
So this morning as I was in prayer the Lord showed me something that I believe to be the key to YOU and I experiencing God's power flowing through us.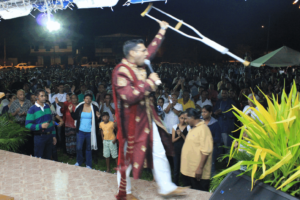 The words He showed me are found in Mark 6:1-6. It's the story of how Jesus was out and about His ministry and decided to stop by his hometown of Nazareth. Interestingly, the moment Jesus entered the town, everyone recognized Him. But they were unable to receive much from Him. He had come wanting and willing to offer them the supernatural power of God, but they were not positioned to receive.
What is it that disqualified the townspeople of Nazareth from receiving from Christ? Well the Master himself tells us the reason that they would return empty handed. It was because they did not Honor His presence.
I thought to myself this morning, Wow!, here were these people who were in the vicinity of Jesus, recognized Him and even marveled at His words, acknowledging His mighty works but yet they simply could not receive.